Aug. 4
RAM Family Bicycle Ride
Riverside Arts Market
RAM.RiversideAvondale.org
The Riverside Arts Market place is going on another bike excursion in the Riverside area. This bike ride will be approximately 10 miles and there is no limit on what age group can join in on the fun. Check out the website to find further details.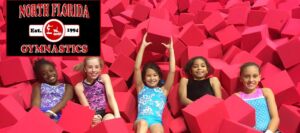 Aug. 13
Tot's Day Out at North Florida Gymnastics
4261 Eldridge Loop, Orange Park
NFGYMcheer.com
Parents that have energetic children should definitely sign them up for "Tot's Day Out" at the North Florida Gymnastics center. Along with gymnastics, the kids will also learn basic sign language, bounce around in a foam pit, and receive snacks as well! Go to the website to find out more!
Aug. 14
National Geographic Presents Earth Explorers
1025 Museum Cir, Jacksonville, FL 32207
TheMosh.org
The National Geographic Presents Earth Explorers, which will be held at the MOSH, is an event geared to immerse participants to the most diverse environments on the face of Earth! The simulation will also expose people to the many different animals that live in the environments. For more details visit their website!
Aug. 31
Gummy Making Class
400 N Hogan St, Jacksonville, FL 32202
SweetPetesCandy.com
Sweet Pete's is giving a class on how to make gummy bears straight from their own recipe! Participants will have the luxury of shaping the candy into whatever form they want. The class will also allow partakers to sample the gummies. Be sure to check it out!