Located in a strip mall on Mayport Rd.  Hangar Bay Café and Gallery has become my favorite spots for a bowl of Hell Fire Ramen and Fried Chicken. Offering various types of Ramen, perhaps the best-fried mac and cheese I have ever tasted, and an incredible fried homemade biscuits drizzled with honey; this small restaurant delivers consistently good dishes with big flavors. I had to meet the man behind the apron; He graciously agreed to talk to me.
When did you find an interest in cooking?
"My family owned several Italian restaurants in Jacksonville while I was growing up, so it was only natural for me to follow in the tradition."  When I became a chef and restaurant owner in 1994, I became serious about cooking. I owned several restaurants located around Jacksonville in coming years. When I sold my restaurants and retired from the business, I  worked for a company that handled sports and entertainment venues in Jacksonville.  After my second retirement, I am here at Hangar Bay doing what I love most cooking.
What cuisines influence your style of cooking? 
It has to be Italian due to my history. But cooking for other venues, I learned to adapt to prepare many dishes.
What is your most memorable kitchen experience? 
Working the Super Bowl in Tampa in 2010.
Do you have a specialty dish that your family and friends always want you to make? 
Shrimp Milanese, with a  soy butter lemon sauce.
The most unusual dish you have eaten? 
Vietnamese duck egg. These are similar to Balut but fertilized longer.
What are your favorite ingredients to use? 
Since I use little to no salt in my dishes, I compensate with oregano, garlic, and pepper. Chef Ed prefers to contrast his flavors rather than meld them.
Favorite celebrity chef(s):  
Robert Irvine, he appears to be down to earth.
If you were not cooking what would you be doing for a living? 
Making decorative tile, having done this in the past, it was an enjoyed the hands on process.
Fried Mac and Cheese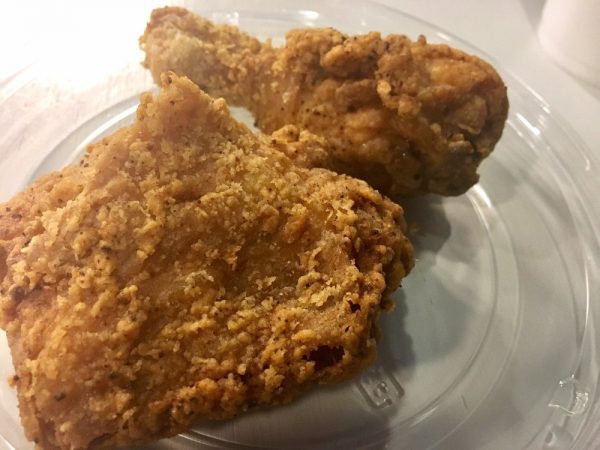 Fried Chicken