Coastal Wine Market & Tasting Room offers guests a relaxing experience while exploring and sipping on wine or craft beer. It's a combination retail and tasting room, and it also offers artisan food items. Get to know Coastal Wine Market.
Business: Coastal Wine Market & Tasting Room
Business Address: 641 Crosswater Pkwy, Suite B, Nocatee
website: www.coastalwinemarket.com/
phone: 904-395-3520
Business hours: Tues-Thurs: 11am – 8pm; Fri-Sat: 11am – 9pm
(closed for private events on Sun-Mon)
Interviewee: Steve Lourie, Owner
How would you describe your business? 
We hover somewhere between a wine store and a wine bar. Even though we are called Coastal Wine Market, we are much, much more than "simply retail." We offer a selection of wines on tap, as well as a diverse selection of craft beers by the bottle and can.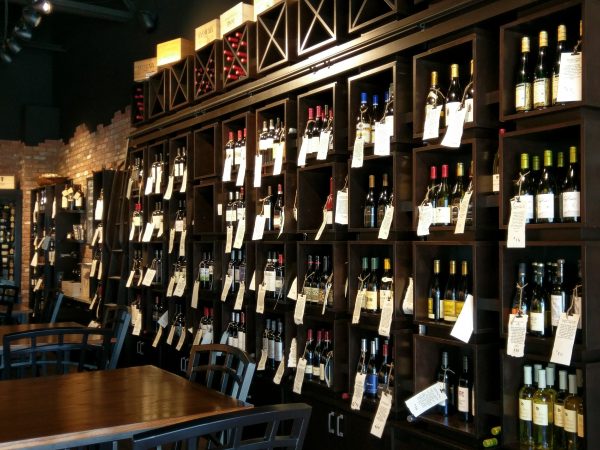 How many wines do you offer in your shop at retail, and where do the wines originate?
We carry around 140 different wines. While we lean towards many domestic wines, we certainly dedicate a good portion of our inventory to Italian, Spanish, Argentinian, Chilean, German, South African and many other types of wine.
Can customers purchase a bottle of wine to enjoy on-site?
We do not charge a corkage fee, and we encourage our guests to pluck a bottle off the shelf and enjoy at their table.
What types of wines do you offer in your wine dispenser/tap system?
We offer 4 reds and 4 whites by the glass, along with a few other non-tapped choices. We will always have a Cabernet and Chardonnay by the glass. The other 6 taps tend to rotate from time to time. Expect to see a nice Rose on tap shortly. It's hot out there!
How many different craft beers do you typically offer at retail and how has that evolved in your business?
We currently carry over 80 different labels of craft beer! It is hard to believe that on our first day we had only 8 on our shelves. We have wholeheartedly embraced the diversity and deliciousness the craft beer industry has been happily providing. We anxiously await seasonal and special releases, and we have been fortunate enough to acquire many of them!
Do you offer any other types of drinks or drink specials?
We offer an assortment of sparkling wines, including Champagne, Prosecco and Moscato by the glass, as well as Mimosas!
How would you describe your food menu?
We have always been huge fans of gourmet cheeses and meats and how they complement wine and beer. We have a large assortment of artisan cheeses served through a diverse selection of cheese and meat boards. Our kitchen has also developed some tasty sliders for guests to snack on anytime. We offer Grilled Cheese & Prosciutto Sliders, Firecracker Shrimp Sliders, and a delicious BLT slider! Also, we will start serving a Saturday Brunch in the coming weeks.
What is your background as it relates to food and beverages, and how did you develop a passion for wine?
My primary career path has always been in restaurants, and that is where I gained an interest for food and wine. When I visited Los Olivos in 2006, my interest turned to passion. The restaurants and wineries there were fantastic. They offered wines I had not really delved into yet like Syrah, Pinot Noir and Viognier. The exposure to these new experiences were incredible, and the vibe was so non-pretentious, that I couldn't help but simply fall in love with the altitude and attitudes!
What kind of Happy Hour or recurring specials do you have?
We have a great Happy Hour Tuesday through Thursday, featuring $5 wines on tap, $3 craft beers, a $10 cheeseboard, and specials on our delicious sliders. Also, every Friday, we have a tasting which features 6 wines for $10.
Do you host any educational events that are wine or beer focused?
We held a "Wine 101" a few weeks ago. We would like to make future classes less formal, and more casual and more accessible. We are looking at scheduling a tasting on Saturday afternoon with an educational twist. Keep an eye out!
What else would you like people to know about Coastal Wine Market?
Our vision has always been about bringing our community together through wine, beer and cheese. Some of the best moments in our lives have occurred over a glass of wine or beer, at the dinner table or local hangout, with friends or future friends. We look forward to helping create more memories and bringing more people together. We encourage all to come in, grab a seat, and enjoy a glass or two!
Cheers!
Linda Johnson, Certified Cicerone®
(photos by Linda Johnson)