Along St. George Street in downtown St. Augustine is a set of 18 shops that line a long hallway in a space known as St. George's Row. Walk to the end of the hallway, and you'll walk right into Rendezvous Restaurant, a quaint little pub with a beer selection that's anything but small.
Business: Rendezvous Restaurant
Business Address: 106 St. George Street, St. Augustine
phone: 904-824-1090
Business hours: Sun-Thurs: 11am – 1am; Fri-Sat: 11am – 2am
Interviewee: Daria Gaugler, Bar Manager
How many beers do you have on tap and what types of beer do you offer?
We have six beers on tap, five of which constantly rotate. One tap is always a constant: Kasteel Rouge, a dark fruit beer with cherries from Belgium. We always try to offer a great selection depending on the time of year and the weather, and available new releases.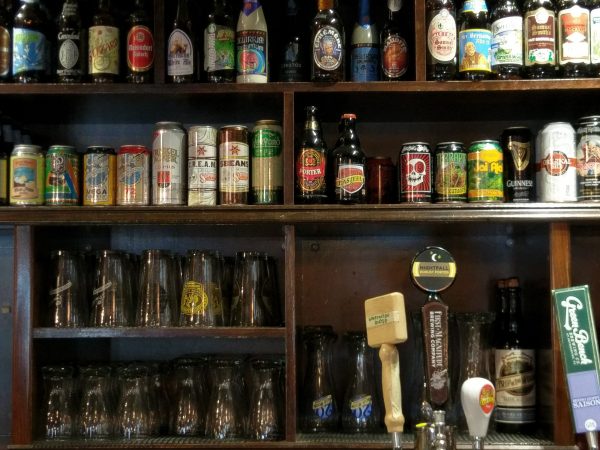 What is your selection of beer in bottles and cans like?
We carry about 350 beers in our five coolers. We focus on beers from around the world, and we offer beers from Iceland, Germany, China, India … just about anywhere! We also look to offer unique beers: ones that no one else might have. In addition, we also stock a large craft beer collection, including a number of IPAs. Generally, we like to find what's new and what's in season.
What's the reaction from guests when they see all the different styles and types of beer that you offer?
A lot of times people are blown away and shocked at the variety of beers we have. They don't expect to find such a large collection in our  pub at the end of the row of shops where we are located.
What types of beverages do you offer besides beer?
We also offer housemade sangria, red/white wines, cider.
What kind of Happy Hour specials do you have?
All of our beer and wines are 20% off every Sunday through Thursday from 6pm til closing.  We also have "Bomber Wednesdays," when all bombers of beer are half-off from 6pm til close on Wednesday nights.
What type of food menu does Rendezvous offer?
You'll find pub food here, with appetizers, salads, cold sandwiches, wraps, hot sandwiches, burgers, panini sandwiches. People rave about our reubens, and you could say we're known for our reubens! We also offer hot dogs and PBJ for the young at heart.
How would you describe the atmosphere at Rendezvous?
We're a laid back place with a comfortable feel. We think of our staff as a family, and we try to make the customers feel like family as well. We have a lot of people who visit once a year or so, and we always remember them. And, it's never a dull moment here at Rendezvous!
Do you host any kind of special events?
Once a month, we host a beer event, when we feature a different brewery and its beers. The brewery reps bring in brewery swag.
What else would you like people to know about Rendezvous?
We feel that we are a hidden gem, and worth seeking out!
Cheers!
Linda Johnson, Certified Cicerone®