Jacksonville's Riverside Arts Market hosted the Fourth Annual Riverside Craft Beer Festival last Saturday, February 25, and it was a spectacular day for beer and music under the Fuller-Warren Bridge. The family- and dog-friendly event took place under a crisp blue sky with the St. Johns River and downtown Jax providing a magnificent backdrop. Once again, the Riverside Rotary Club presented the beer fest, with proceeds benefitting Community Peds Care and Riverside Rotary Foundation (see preview story).
The Fest featured over 70 breweries, from Jacksonville and across Florida, along with regional, national and international breweries. Over 100 craft beers were available for unlimited sampling. The lineup included a number of new breweries and new or recent additions to the Jacksonville market. Brewery tents and tables were set up in rows throughout the grounds, alongside a few distributor trucks and brewery vans. All afternoon, food trucks produced mouth-watering aromas from one end of the venue. Local favorite band Grandpa's Cough Medicine entertained the crowd with foot-stomping lively music. Organizers were anticipating attendance around 3000, according to a pre-fest interview with Fest Director Matt McLauchlin. Last year, Rotary raised around $95,000, and presented a check for $75,000 to Peds Care. While the fundraising figures aren't available at this time, here's hoping that this year's fest surpassed those numbers!
Overall, the setup was friendly and easy to maneuver, with ample space between brewery tents. Lines were manageable and non-stressful (at least from the attendee standpoint; there were a few noticeable crowds at a few breweries), and from all observations, a good time was had by all!
Like last year, I volunteered to pour beer during the second shift, and I was able to wander around the venue before taking on that assignment. Although VIP entry wasn't until 3pm, things were coming together around the Fest grounds well before then. By 2pm, the place was humming with brewery tents, beer trucks and food trucks.
Beautiful day on the river for a beerfest!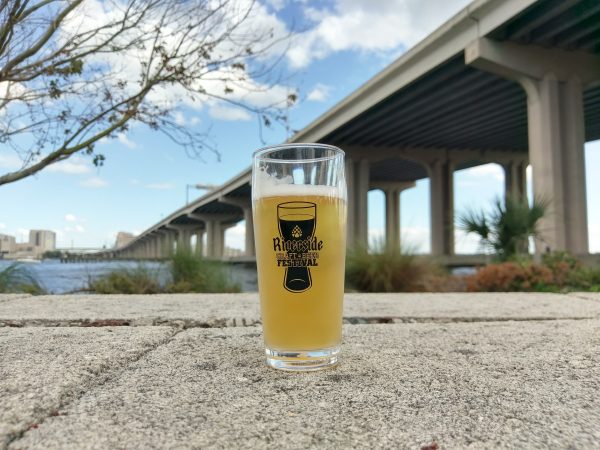 The fest layout was a breeze, even with the larger crowds later in the day.
Grandpa's Cough Medicine with the tunes.  Tables and chairs were set up near the stage.
Local Jax brewery Wicked Barley Brewing Company, which opened last summer, made its first Fest appearance. Things at the Wicked Barley tent may have started off a bit on the slow side ….. but that didn't last long,
and, this writer observed a steady stream of foot traffic there all afternoon (obviously a popular choice)! The guys were prepared, too, as they even brought a water rinse station.
Local brewery Intuition Ale Works was ready for a good time (no surprise there). Well, they brought Underdark ….
And, if you're not familiar with two of the  904 area's up-n-coming breweries in-planning, you were able to meet the owners and sample some of their beers.
Hyperion Brewing owners Alex McKeown and Troy Orton were on hand to talk all things beer and construction, while pouring four of their beers. Keep an eye out for more sampling from this brewery, and you're likely to find new beers every time – in fact, that's just what they're looking to do when they open. I've sampled a number of the beers, and they're on point. Alex and Troy are looking to open their brewery and tap room at 1740 N. Main St. in the Springfield area of Jax this year. (See pre-construction story from earlier this year for additional info).
We were at a beer fest, after all, so there has to be a beer picture! This Peanut Butter Porter from Hyperion Brewing was a PB and chocolate dream.
At the next table, another new brewery coming to the Springfield area of Jax also met the crowd and poured two of their beers. Say Hello to Dennis and Danielle Espinosa of Main & Six Brewing Company, which is setting up at 1636 N. Main St.  Check out those cool growlers on the table!
Even at this early stage, the Black IPA from Main and Six Brewing is already one of my favorites….
The fest was family- and pet-friendly, and this family had both bases covered! Everyone had a good time under the Bridge!
Then, it was time for me to get behind the jockey box and pour some beer! I was thrilled to pour an IPA and an Imperial Stout for Playalinda Brewing Company (Titusville). I've been there a time or few!
Great work by the organizers of the Fest! It doesn't get much better than drinking good beer for a great cause at an awesome setting!  Make your plans to attend next year's Fest!

Cheers!
Linda Johnson, Certified Cicerone®