The Amy Herzog drama, 4000 Miles, is in production through March 26 at the Atlantic Beach Experimental Theatre. ABET provided a talented cast and an impressive set to tell the play's story about love, loss and relationships.
The play revolves around two central characters – 91-year-old Vera and her 21-year-old grandson, Leo. After suffering a major loss while he was on a cross-country bike trip, Leo seeks solace from his spirited grandmother in her West Village apartment. Over the course of a month, these unlikely roommates infuriate, bewilder and ultimately reach each other.
ABET's production is thoughtfully directed by Rhodie Jackson. The play is filled with both poignant and humorous moments, and the cast presents believable performances.
Although well past her own age, Meganne McCawley Johnson perfectly captures Vera, a warm, outspoken grandmother who has outlived three husbands and many friends, and is struggling with hearing loss and finding her words. Michael Wills reveals great vulnerability in his portrayal of Leo, a young man trying to figure out his life.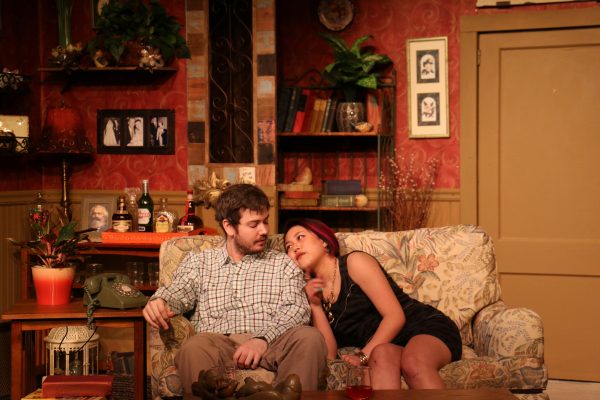 Two ABET newcomers deliver fine performances in the play's supporting roles. Alexis Boucugnani plays Leo's girlfriend, Bec, who is not happy with her relationship with Leo, and Kayla Le plays Amanda, who returns home with Leo after a night out.
The set, designed and decorated by Allen Morton, is incredible. ABET's intimate stage is beautifully transformed into Vera's well-appointed and comfortable New York apartment. No detail is missing including a manual typewriter and a dial telephone.
Bryan Frank's lighting and sound design and Amy Tillotson's costume design also complement the play. The production team also includes stage manager Elizabeth Rohman, lighting/sound techs Mariana Bell and Gordon Frank, and Brian Johnson leads the backstage crew.
Performances continue March 17, 18, 19, 24, 25, and 26. Curtain is at 8 p.m. Friday and Saturday, and at 2 p.m. on Sunday.
Tickets are $20. For reservations, go to www.abettheatre.com or call (904) 249-7177. ABET is located at 716 Ocean Blvd., Atlantic Beach.
Photography by Susan Roche